$

10.00
DC Soccer Block Decal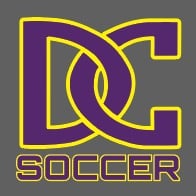 Support your Jaguars and rep your school at the same time. Use this Decal to show your support. These can be put anything from car windows to Laptops.
Sized approx 4"4"
*ORDERS WILL BE OPEN FROM 10/16 - 10/30. ALL ORDERS WILL BE AVAILABLE FOR PICK UP OR USPS DELIVERY AFTER 11/6/20.*
*ORDERS WILL BE DISTRIBUTED THROUGH THE SOCCER BOOSTERS AT THE SCHOOL, PLEASE PUT YOUR CHILD'S NAME AND GRADE IN THE BOX AT CHECKOUT.
For questions about the orders contact
Soccer Booster- Tina (901)238-8462
LOCAL PRINT CO - Andy (901 206-9367)